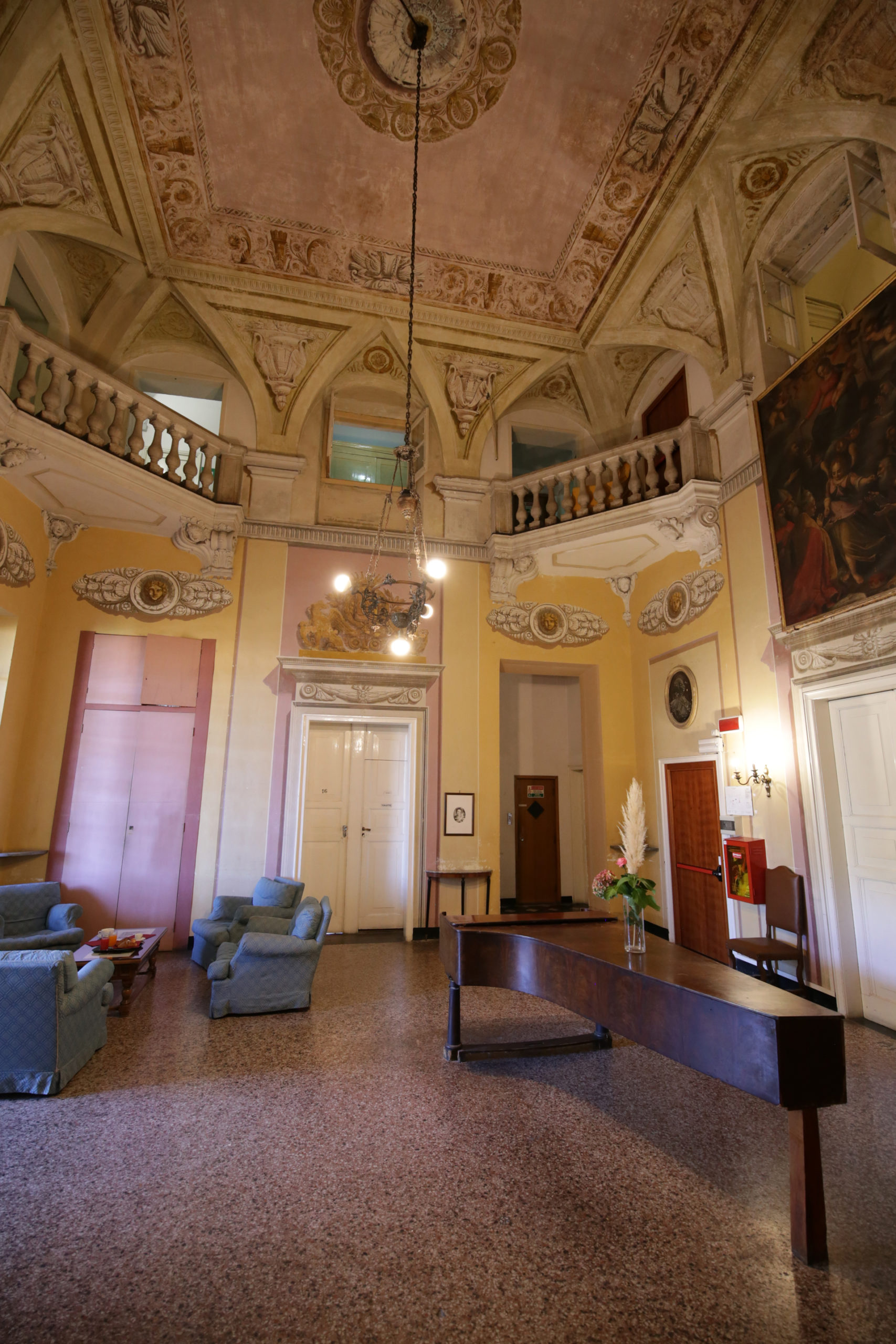 Comfort & relax
Villa Bonera: not the usual hotel
Villa Bonera is a charming family-run XVI Century Villa and it's been a hotel since mid 1800s.
The building has maintained original flooring, frescos and decorations. The garden of the Villa, small-sided proof of the huge XVII Century park, surrounds the hotel with its flowers and plants and it's fully accessible, as well as being location for breakfasts and meals during the warm season.
Our parking is certainly available for guests, in the garden itself.
But don't get us wrong: we leave luxury to the great 5 stars hotels and rely on the genuine hospitality with a smile, in an informal setting.
In a context like this, we gladly host you so you can enjoy some of the classic Genova Nervi that still survives in its historical buildings and unique views.
The ideal hotel for a holiday with your family, your partner, or your friends, but even if you're alone on a business or pleasure trip and you're sick of big hotel chains' coldness.
The pleasure of the typical Liguria cuisine
Your stay at Villa Bonera will allow you to value the typical cuisine from Genova and Liguria.
The rich and various breakfast buffet, served in the garden during the warm season, offers homemade cakes and biscuits, warm croissants, fresh focaccia and bread, a variety of tasty marmalades, fruit juices and much more; our restaurants recommends specialties of the Riviera Ligure (and italian): we suggest trofie al pesto and pansoti alla salsa di noci with fresh homemade pasta, seafood specialties, mesc-ciüa soup… All among the aromas of our basil (unique in the world) and Riviera di Levante herbs from our own vegetable garden.
Our wine list also follows the needs of a traditional restaurant: a selection of ligurian and italian wines will accompany you on any pleasant discovery.
The restaurant follows this schedule:
breakfast: 7.30 AM / 10 AM – lunch: 12.30 PM / 13 PM – dinner: 19.30 PM / 20.30 PM
Reservation is required on lunch and dinner, if possible at least one hour before.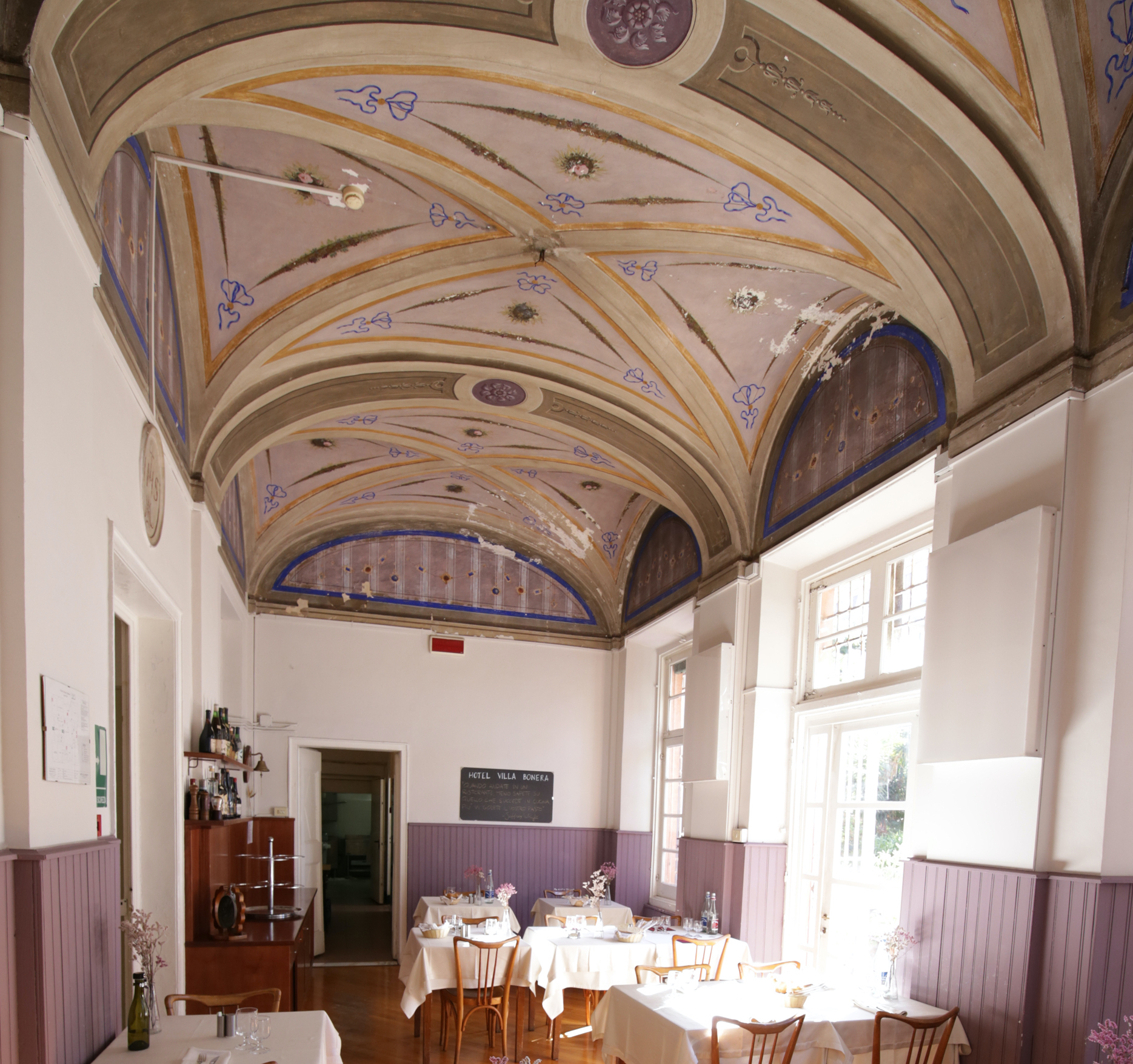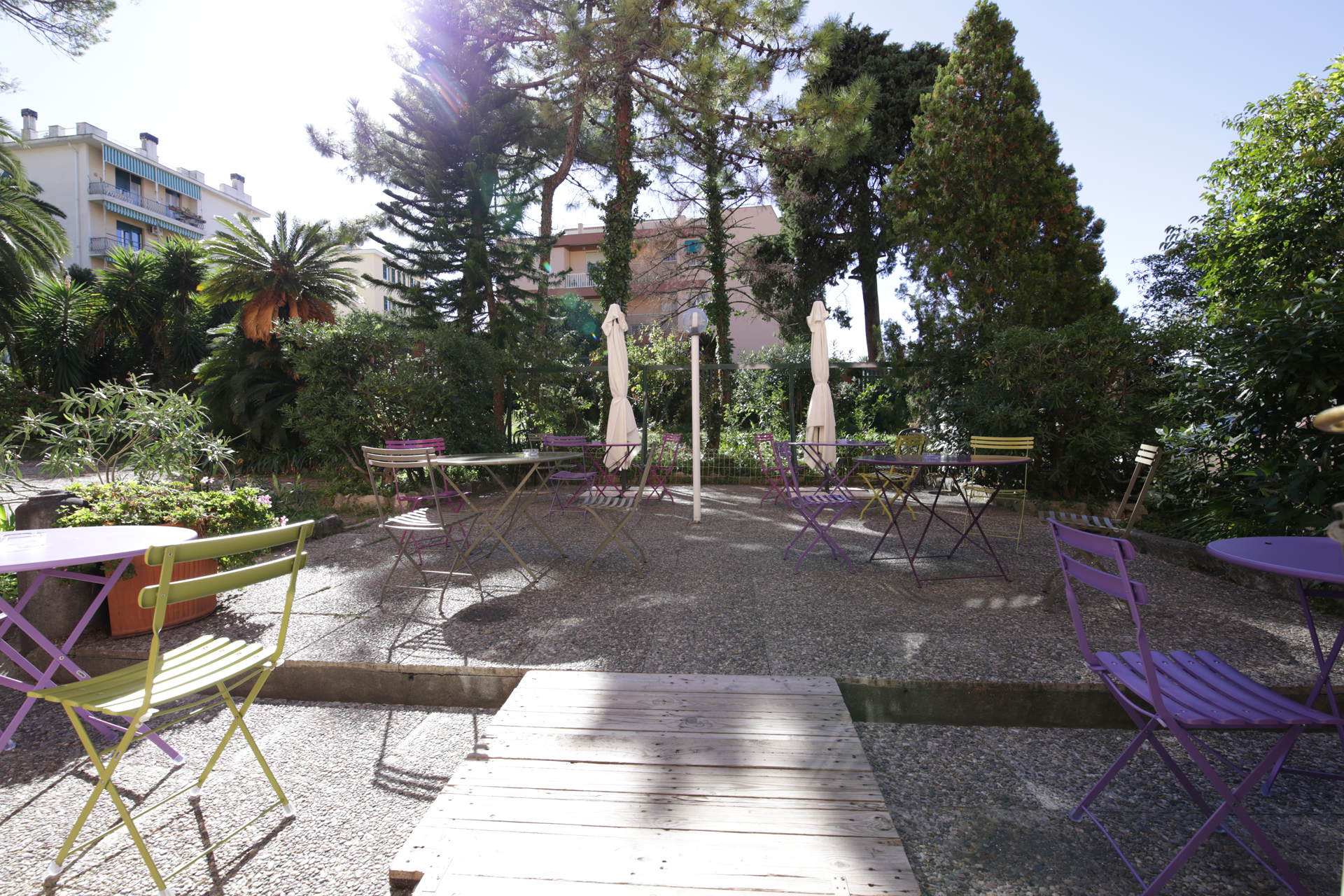 The garden of the Villa, small-sided proof of the huge XVII Century park surrounds the hotel with its flowers and plants and it's fully accessible, as well as being location for breakfasts during the warm season.
Surrounded by greenery, the Villa offers a furnished terrace where pleasantly enjoy of your free time, maybe by reading a book or planning your holiday absorbed between scents and flavors in Nervi likable mild climate, a corner of Paradise in Genova.
All of Villa Bonera services
Reception open from 7 AM to midnight
Bar open from 7 AM to midnight
Free unattended parking area
Free internet in public areas (Wi-Fi password: bonera12)
Italian newspapers
Elevator
Pets are welcome
Safe at the reception
Reading/play room at ground floor
Garden
Left luggage office
All credit cards accepted, except American Express and Diners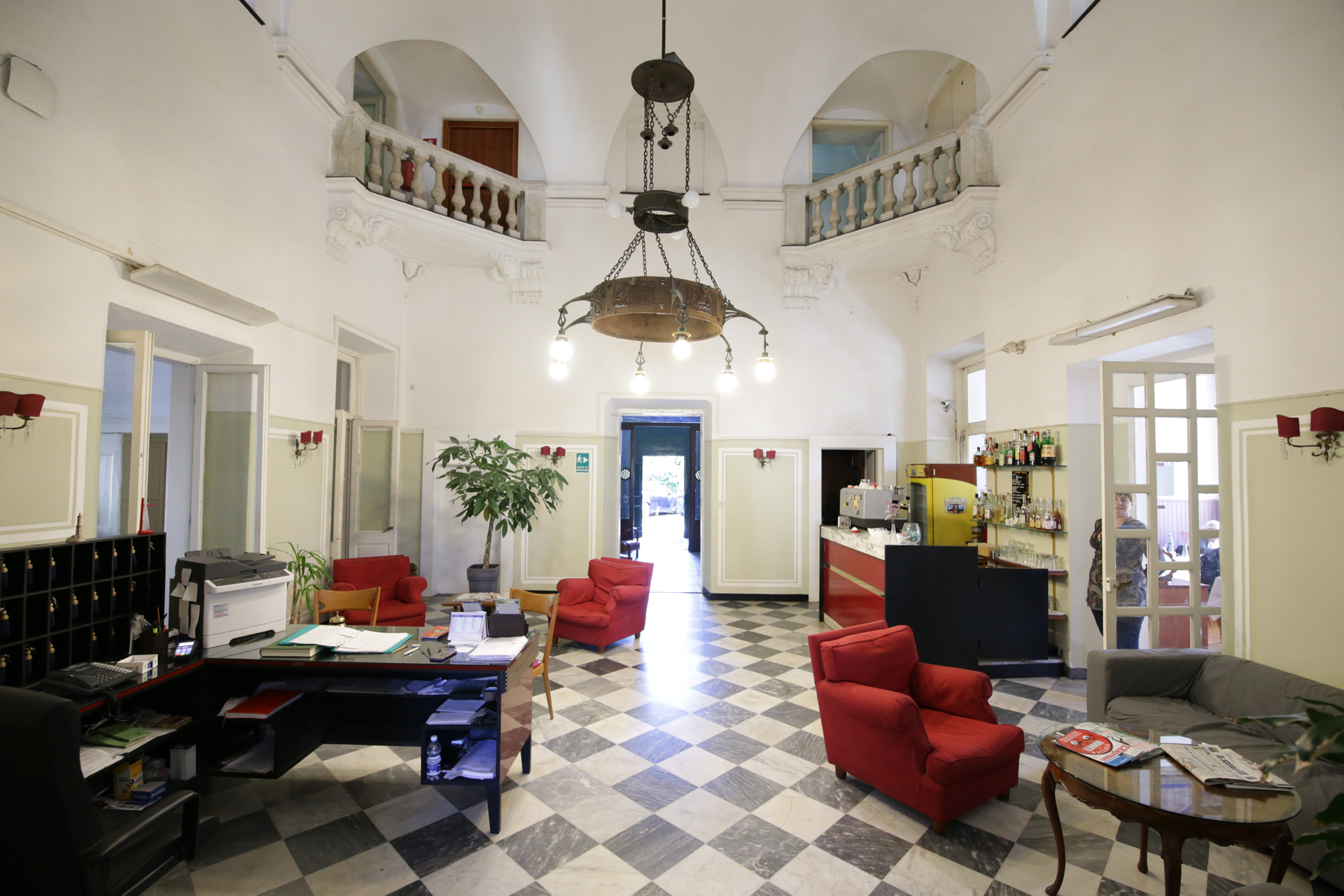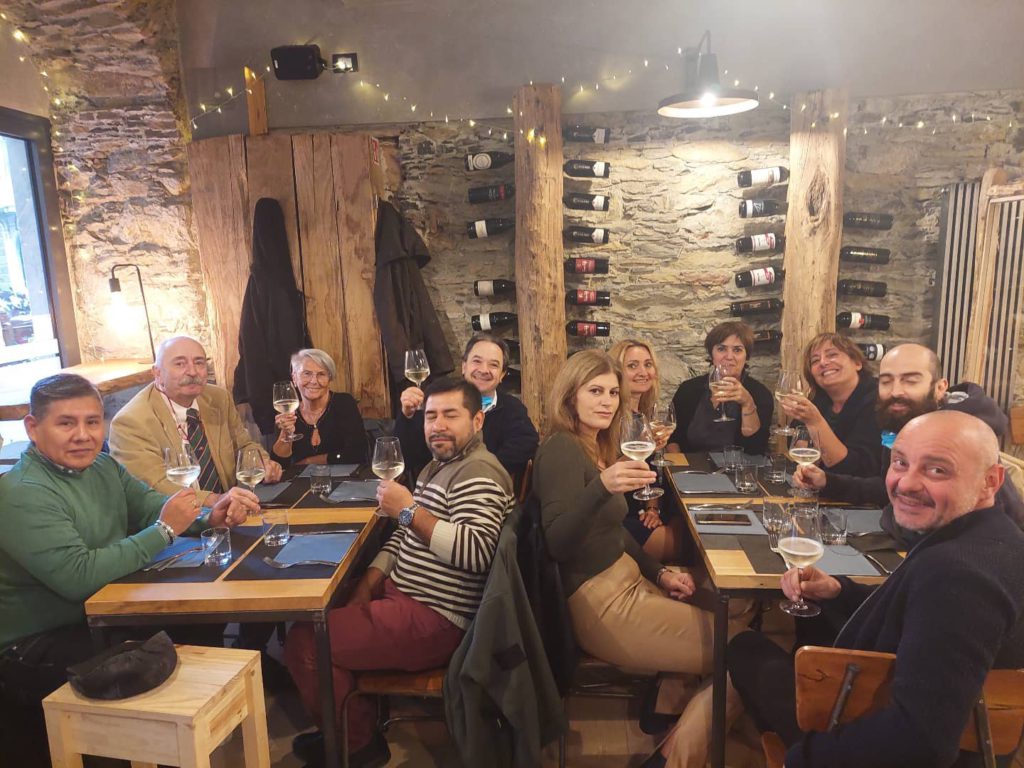 Beyond Morandi family (father Roberto, mother Gabriella, and brothers Barbara and Marco), part of the historical Villa Bonera group is also formed by Sofia, Rudy, his brother Richard, Ajrina and Alessandro.
Roberto– He's the historical memory of the hotel. If he wakes up with a straight moustache he's a funny guy, but if it's crooked you could be reproached 'cause you ate a croissant instead of a piece of cake.
Gabriella – The pastry chef the whole world envy us. Everyday she gets compliments on her marmalades, cookies and cakes; she smiles back, thanks, and goes back to knead.
Barbara– In her first life she was a scientific researcher, but it looks like she's been a hotelier forever. If you bring a pet with you, rest assured she's going to love it.
Marco– OK that environment is informal, but he takes advantage of it: long beard, knickerbockers 6 month per year, and that love for t-shirts…
Sofia– The fastest waitress in the Sardegna Kingdom. She's been working here since the '80s, so she's part of the Villa as much as the frescoes (but she looks much younger).
Rudy– The nightman has come from Perù. A night porter who could seem grouchy at first glance, but deep inside he's got a golden heart. Don't challenge him to a pool game, his hit is relentless.
Richard– Rudy's younger brother, he's our handyman. Villa is ancient and there's always a trouble to fix, but his magic hands will repair any glitch.
Ajrina– Straight from the Balcans, our Queen of the rooms is as much ironic as accurate in her cleanings (except in the rooms infested by ghosts).
Alessandro – The new guy at Villa Bonera, Alessandro is the only Genoese besides the Morandi family. Try his pesto and his raw fish, you won't regret it!